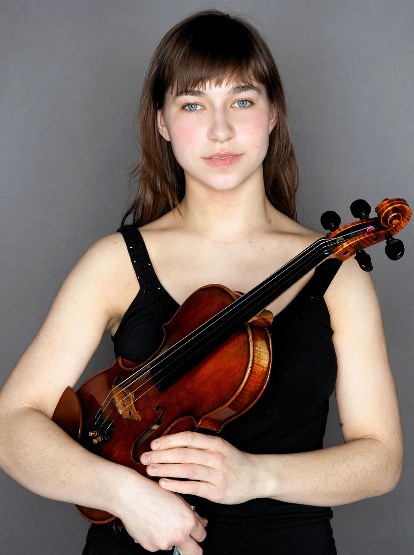 Date of Birth: 19.07.1991
Instrument: a copy of Pietro Guarneri, 17th/18th century (borrowed from Polish Union of Artist Violin Makers)

Aleksandra Kuls began violin lessons when she was seven. She attended the Zenon Brzewski Music School in Warsaw and in 2010 enrolled at the Academy of Music in Krakow where she has been studying with Professor Kaja Danczowska. She has performed as a soloist since she was ten and has played concerts in Poland, Ukraine, Belgium, Norway, Germany and Austria among others.
She has won prizes in violin competitions including the Georg Philipp Telemann Competition in Poznań (2007), Groblicz Family Competition in Krakow (2007) and Tadeusz Wroński Competition for Solo Violin in Warsaw (2009). In October 2011 she was awarded two additional prizes at 14th International Henryk Wieniawski Violin Competition : Prize awarded by Wanda Wiłkomirska for the best rendering of a work by Karol Szymanowski and Prize awarded by the Board of Critics. In 2011, after the Wieniawski Competition, she received Polityka's Passport (in classical music category) - the annual prestigious Polish award presented by the weekly magazine Polityka. Moreover in september 2012 she won the International József Szigeti Violin and Viola Competition.
Aleksandra has also pursued chamber music and composition. Participated in master classes in Łańcut, Nowy Sącz, Waterloo and Vienna. Scholarship holder of the Polish Children's Fund, Ministry of Culture and National Heritage and the Vide Supra Foundation.
[2012]

Program performed by Aleksandra Kuls
during the 14th International Wieniawski Competition 2011:
Stage 1:
J. S. Bach: Chaconne from Partita BWV 1004
N. Paganini: Capriccio No. 24 Op. 1
H. Wieniawski: Capriccio Op. 10 No. 6 (Prelude)
B. Bartók: Sonata for violin solo, first movement Tempo di Ciaccona
Aleksandra Kuls- J.S.Bach Chaconna z II Partity d-moll.mp3 12.24 MB
Aleksandra Kuls- N.Paganini Kaprys op.1 nr24.mp3 4.43 MB
Aleksandra Kuls- H.Wieniawski Kaprys op.10 nr 6.mp3 3.13 MB
Aleksandra Kuls- B.Bartok Sonata-Tempo di ciaccona.mp3 8.11 MB
Stage 2:
M. Ravel: Sonata
H. Wieniawski: Legende Op. 17 and Scherzo-Tarantelle in G Minor Op. 16
K. Szymanowski:  La fontaine d'Arethuse of Mythes cycle Op. 30
ALEKSANDRA KULS -Ravel -Sonata 1cz.mp3 7.85 MB
ALEKSANDRA KULS Ravel - Sonata G-dur; cz2=Blues.Moderato.mp3 5.46 MB
ALEKSANDRA KULS Ravel - Sonata G-dur; cz3=Perpetuum mobile. Allegro.mp3 3.82 MB
WYK nr20 Aleksandra KULS; Wieniawski - Legenda op17.mp3 7.12 MB
WYK nr20 Aleksandra KULS; Wieniawski - Polonez koncertowy D-dur op4.mp3 5.1 MB
WYK nr20 Aleksandra KULS; Szymanowski - Zrodlo Aretuzy.mp3 5.12 MB
Stage 3:
W. A. Mozart: Violin Concerto in G Major KV 216 (first movement); cadence author: D. Oistrach
W. A. Mozart: first movement of Sinfonia Concertante in E flat Major KV 364/320d

Michał Bryła - viola
Aleksandra Kuls -W.A.Mozart koncert G-dur KV216 cz1.mp3 8.36 MB
Aleksandra Kuls -W.A.Mozart -Sinfonia Concertante Es-dur cz1.mp3 12.06 MB
Stage 4:
H. Wieniawski: Second Violin Concerto in D Minor Op. 22
J. Brahms: Violin Concerto in D Major Op. 77