SLEEPLESSNESS - Summer chamber concerts in Poznań | June 2018
The series of chamber concerts called "Sleeplessness" ["Bezsenność"] started last year.
Its main idea – to stage master performances in unusual city locations, outside the concert halls – turned out to be a tremendous success. 

Poznań inhabitants loved spending hot summer evenings in un­conventional, yet extremely atmospheric spaces filled with the sounds of classical music. They enjoyed performances by Valé­rie Milot and Antoine Bareil – the Canadian harp and violin duet in the mysterious Fort 6th, a joint concert of Gidon Kramer and Clara-Jumi Kang, the violin virtuosos, in the All Saints Church famous for its perfect acoustics, as well as the outstanding performance of the Wiłkomirski Trio on the charming courtyard of the Ballet School. 
In June 2018, Henryk Wieniawski Musical Society invited music lovers for the second part of the series. This time Duo Haroni, the violin and the piano duet was invited. The Israeli mu­sicians presented an original tapeur project. They played live music to a silent movie, the American melodrama "The Sunrise" from 1927. It was their original compilation of musical pieces from classical repertoire, jazz hits as well as folk and music of the Orient. The dazzling duet did not shy away from improvising and took their audience aback with creative approach to well-known piec­es. During "Sleeplessness" concerts the audience also got a chance to listen to the world-famous Signum Saxophone Quartet which, together with the outstanding cellist Matthias Bartolomey, took us on a musical journey from Bach through Grieg, Respighi, Ligeti, and Piazolla. As for the third concert of the series, three great Polish musicians: violinist Anna Maria Staśkiewicz, the viola player Katarzyna Budnik-Gałązka and the cellist Marcin Zdunik performed the famous "Goldberg Variations" by J. S. Bach arranged by D. Sitkovetsky.
Welcome to summer concerts called "Sleeplessness" next year 2019!
___________________________________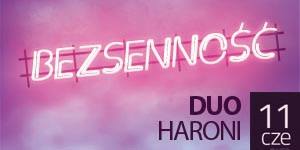 June 11, 2018 (8.30 PM) | DUO HARONI / W.F. Murnau: 'Sunrise: A Song of Two Humans' (1927)
Adi Haroni - violin
Bishara Haroni - piano
Duo Haroni website >

Venue: 
Scena na Piętrze: Masztalarska 8, 61-767 Poznań, Poland
___________________________________
  
June 13, 2018 (8.30 PM) | Signum Saxophone Quartet & Matthias Bartolomey
Blaž Kemperle – soprano saxophone
Erik Nestler – alto saxophone
Alan Luzar – tenor saxophone
Guerino Bellarosa – baritone saxophone
Matthias Bartolomey – cello
Programme:
Johann Sebastian Bach (1685-1750): Italian Concerto, BWV 971
(transcription for saxophone quartet by Katsuki Tochio)
György Ligeti (1923-2006): Six Bagatelles (1953) from Musica Ricercata
(transcription for saxophone quartet by Guillaume Bourgogne)
Astor Piazzolla (1921-1992): Le Grand Tango
(transcription for cello and saxophone quartet by Miha Ferk)
Ottorino Respighi (1879- 1936): Il tramonto
(transcription for cello and saxophone quartet by SIGNUM saxophone quartet)
Joseph Haydn (1732-1809): Cello Concerto No. 1 in C-Major 
(transcription for cello and saxophone quartet by Christoph Enzel)
Signum Saxophone Quartet website >
Matthias Bartolomey website >
Venue: 
Uniwersytet Artystyczny w Poznaniu / Al. Marcinkowskiego 29, 60-967 Poznań, Poland
___________________________________
 
June 20, 2018 (8.30 PM) | String trio: 'Goldberg Variations' BWV 988
Anna Maria Staśkiewicz – violin
Katarzyna Budnik-Gałązka – viola
Marcin Zdunik – cello
Venue:
Ogólnokształcąca Szkoła Baletowa im. Olgi Sławskiej-Lipczyńskiej w Poznaniu, ul. Gołębia 8, 61-834 Poznań, Poland
___________________________________
Contact - ticket sales, reservations, information (9.00 AM - 3.00 PM):
Towarzystwo Muzyczne im. Henryka Wieniawskiego | Henryk Wieniawski Music Society 
ul. Świętosławska 7, 61-840 Poznań, Poland
tel: +48 61 852 26 42
basia@wieniawski.pl
___________________________________

ORGANIZER:


CO-FINANCING:
SPONSOR:

PARTNERS: