Ida Haendel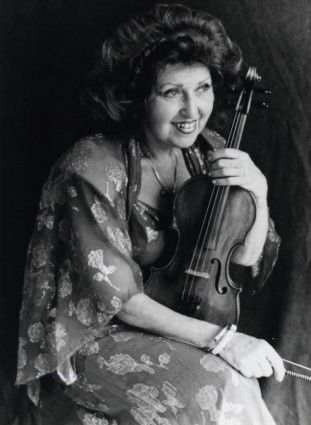 Ida Haendel is an English violin player of Polish origin. Born in Chełm, she studied with M. Michałowicz at the Warsaw Conservatory, as well as with Carl Flesch in London and George Enescu in Paris.
In 1933, she won the First Prize at B. Huberman Competition in Warsaw, and in 1935 was one of the laureates of the 1st International Henryk Wieniawski Violin Competition in Warsaw. In 1936, Ida Haendel settled in Great Britain. A year later she debuted at the Queen's Hall in London, where she performed Johannes Brahms' "Concerto in D major" with orchestra conducted by Henry Wood. In 1946–1947 she made her first US tour. In 1952–1989 she lived in Canada, regularly visiting Europe; she also performed in South America and Asia. Played with such celebrities as Vladimir Ashkenazy, Paavo Berglund, Adrian Boult, Sergiu Celibidache, Jonathan Feldman, Eugene Goossens, Bernhard Haitink, Eliahu Inbal, Zubin Mehta, Ivor Newton, or Simon Rattle. Her concerts were regularly broadcast by Canadian CBS television. Several years of Ida Haendel's collaboration with Canadian orchestras, as well as concerts in Montreal, Toronto, Ottawa and Vancouver, made her a key celebrity of Canadian musical life. For masterly performance of Jean Sibelius's Concerto, in 1982 she was awarded the prize bearing the outstanding Finnish composer's name.
Great Britain honoured her with the title of "Commander of the British Empire" (1991), as well as with "Honorary Doctorate of the Royal College" (2000). She has recorded for the greatest labels in the world, incl. Decca, Harmonia Mundi, and EMI CLASSICS. In 1970 she published her autobiography "Woman with Violin". In 1986 and 2006 she sat on the jury of the International Henryk Wieniawski Violin Competition in Poznań. Ida Haendel plays a 1696 Stradivari.
[2011]