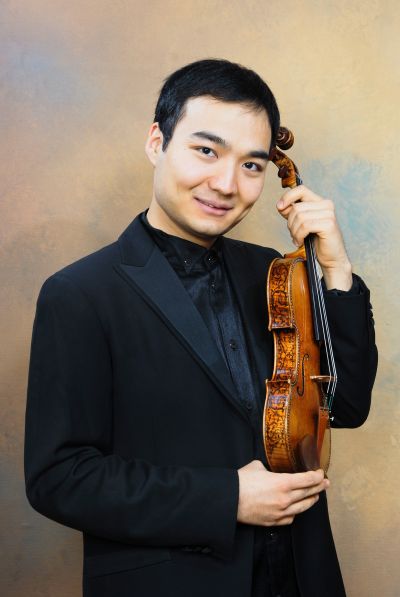 Date of Birth: 21.09.1986
Instrument: A. Stradivari "Rode" (1722), on loan from the Maggini Foundation.
Erzhan Kulibaev started his education at the age of 6 at the Special Republican School of Music for Talented Children in Kulyash Baiseitova (Kazakhstan, Almaty) in N. M. Patrusheva's class. He entered the Special Central School of Music of the Tchaikovsky State Conservatory of Moscow at 12, in A. V. Revich's class. Since 2004 he has been studying at the Queen Sophia College of Music in Madrid and has been perfecting his practice with Zakhar Bron at the Mikhail Glinka State Conservatory of Novosibirsk.
He won first prizes in international competitions in Yekaterinburg (2003), Lisbon (2006), Novosibirsk (2007) and Buenos Aires (2nd International Violin Competition presided by Shlomo Mintz, 2012). In October 2011 he became a laureate of the 14th International Henryk Wieniawski Violin Competition in Poznań (Distinction of Honourand).
He has performed on European and Asian renowned venues. He collaborated with Vladimir Ashkenazy, Vadim Repin and Maxim Vengerov, amongst other distinguished maestros. He participated in master classes given by Kolja Blacher, Ralf Gothoni, Jesus Lopez-Cobos, Vitaly Margulis, Igor Ozim, Silvia Markovichi, Jean-Jacques Kantorov, Gyorgy Pauk, Victor Pikayzen, Peter Frankl and Mauricio Fuks. 
[2012]

Official website: www.erzhankulibaev.com

Program performed during the 14th International Henryk Wieniawski Violin Competition (October 2011):
Stage 1:
J. S. Bach: first and second movement of a sonata for solo violin BWV 1003
N. Paganini: Capriccio No. 23 Op. 1
H. Wieniawski: Capriccio Op. 10 No. 7 (La Cadenza)
E. Ysaÿe: Third Sonata in D Minor for violin solo Op. 27 Ballade
Erzhan Kulibaev - J.S.Bach II Sonata a-moll Andante.mp3 3.69 MB
Erzhan Kulibaev - J.S.Bach II Sonata a-moll Fuga.mp3 6.9 MB
Erzhan Kulibaev - N.Paganini Kaprys op.1 nr 23.mp3 3.53 MB
Erzhan Kulibaev - H.Wieniawski Kaprys op.10 nr 7.mp3 3.73 MB
Erzhan Kulibaev - E.Ysaye III Sonata d-moll.mp3 5.83 MB
Stage 2:
L. van Beethoven: Sonata in A Major Op. 47
H. Wieniawski: Variations on an Original Theme Op. 15
K. Szymanowski:  La fontaine d'Arethuse of Mythes cycle Op. 30
ERZHAN KULIBAEV -Beethoven -Sonata A-dur cz1 Adagio.mp3 10.26 MB
ERZHAN KULIBAEV Beethoven - Sonata A-dur op47; cz2=Andante con variazioni.mp3 12.16 MB
ERZHAN KULIBAEV Beethoven - Sonata A-dur op47; cz3=Finale.Presto.mp3 6.17 MB
ERZHAN KULIBAEV Wieniawski-Wariacje nt wlasny op15.mp3 10.06 MB
ERZHAN KULIBAEV Szymanowski - Zrodlo Aretuzy.mp3 5.45 MB
Stage 3:
W. A. Mozart: Violin Concerto in G Major KV 216 (first movement) ; Cadence author: Erzhan Kulibaev
W. A. Mozart: first movement of Sinfonia Concertante in E flat Major KV 364/320d

Michał Bryła - viola
Erzhan Kulibaev -W.A.Mozart -koncert G-dur KV 216 cz1.mp3 8.06 MB
Erzhan Kulibaev -W.A.Mozart -Sinfonia Concertante Es-dur cz1.mp3 11.8 MB
Stage 4:
H. Wieniawski: Second Violin Concerto in D Minor Op. 22
P. Tchaikovsky: Violin Concerto in D Major Op. 35
nr19 Erzhan KULIBAEV Wieniawski- II Konc skrz d op22 cz1-Allegro moderato.mp3 11.07 MB
nr19 Erzhan KULIBAEV Wieniawski- II Konc skrz d op22 cz2-Romance...mp3 4.61 MB
nr19 Erzhan KULIBAEV Wieniawski- II Konc skrz d op22 cz3 Finale.Allegro..mp3 5.75 MB
nr 19 Erzhan KULIBAEV Czajkowski-konc skrz D op35;cz1-Allegro.mp3 17.55 MB
nr 19 Erzhan KULIBAEV Czajkowski-konc skrz D op35;cz2-canzonetta..mp3 5.98 MB
nr 19 Erzhan KULIBAEV Czajkowski-konc skrz D op35;cz3-finale.mp3 9.54 MB