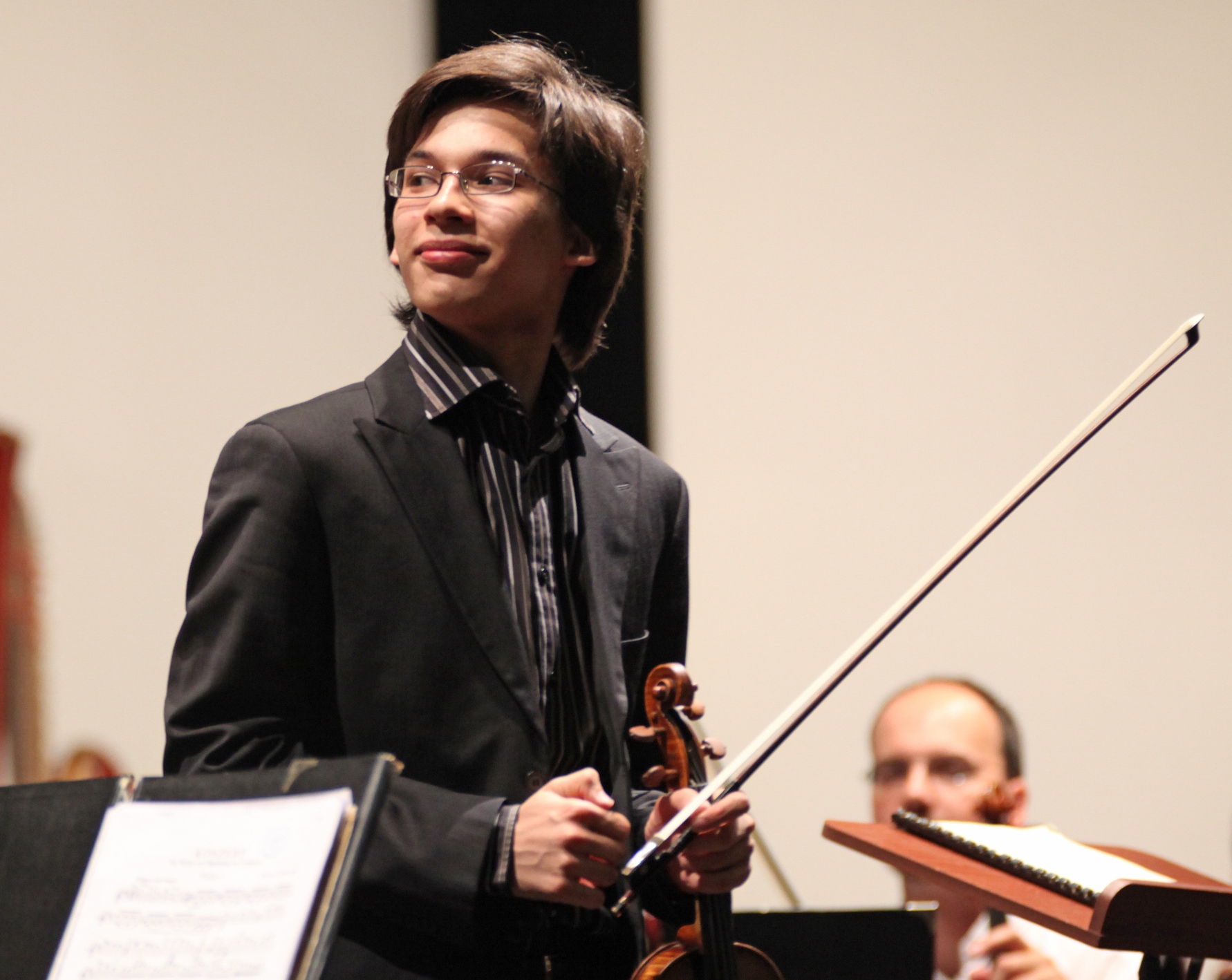 Date of Birth: 29.07.1987
Instrument: Carlo Borgonzi 1719
Aylen Pritchin began music lessons at the age of six. Since 2005 he has been studying at the Moscow Conservatory with Professor Eduard Grach. He has taken master classes with such eminent musicians as Shlomo Mintz, Yair Kless, Gyorgy Pauk, Jossif Rissin, Zakhar Bron, Hatto Beyerle, Natalia Gutman, Boris Berman and Vadim Sakharov. He has also won prizes in several competitions including the Tchaikovsky Competition in Kurashiki (Japan, 2004), Abram Ilich Yampolsky Competition in Moscow (2006), Pancho Vladigerov Competition in Shumen (Bulgaria, 2007), Canetti Competition in Haifa (Israel, 2009) and in Sion Valais (Switzerland, 2009). Aylen has given concerts in major venues in St. Petersburg and Moscow and in Switzerland, the Netherlands, Bulgaria, Israel, France, Japan, Germany and Poland.
[2011]

Program performed during the 14th International Henryk Wieniawski Violin Competition (October 2011):
Stage 1:
J. S. Bach: first and second movement of a sonata for solo violin BWV 1003
N. Paganini: Capriccio No. 7 Op. 1
H. Wieniawski: Capriccio Op. 10 No. 7 (La Cadenza)
E. Ysaÿe: Sixth Sonata in E Major for violin solo Op. 27
Aylen Pritchin-JSB-IISonata a-moll - Grave.mp3 3.84 MB
Aylen Pritchin-JSB-IISonata a-moll - Fuga.mp3 7.42 MB
Aylen Pritchin-HW-Kaprys nr7.mp3 3.99 MB
Aylen Pritchin-EY-VI Sonata E-dur op.27.mp3 6.12 MB
Stage 2:
S. Prokofiev: I  Sonata in F Minor Op. 80
H. Wieniawski: Variations on an Original Theme Op. 15
K. Szymanowski: Romance in D Major Op. 23
AYLEN PRITCHIN Prokofiew -1 Sonata op80 cz1 Andante assai.mp3 6.27 MB
AYLEN PRITCHIN Prokofiew -1 Sonata op80 cz2 Allegro brusco.mp3 5.89 MB
AYLEN PRITCHIN Prokofiew -1 Sonata op80 cz3 Andante.mp3 6.5 MB
AYLEN PRITCHIN Prokofiew -1 Sonata op80 cz4 Allegrissimo.mp3 6.42 MB
AYLEN PRITCHIN -Wieniawski -Wariacje op15.mp3 10.41 MB
AYLEN PRITCHIN -Szymanowski -Romans op23.mp3 5.16 MB
Stage 3:
W. A. Mozart: Violin Concerto in G major KV 216 (first movement) ; Cadence author: Pritchin
W. A. Mozart: first movement of Sinfonia Concertante in E flat Major KV 364/320d

Lech Bałaban - viola
nr31 Aylen PRITCHIN; Mozart - Konc skrz G KV216;cz1=Allegro.mp3 7.96 MB
nr31 Aylen PRITCHIN; Mozart - Sinf.Concertante Es Kv364;cz1=Allegro maestoso,altowka=Lech Balaban.mp3 11.77 MB
Stage 4:
H. Wieniawski: First Violin Concerto in F sharp Minor Op. 14
P. Tchaikovsky: Violin Concerto in D Major Op. 35
Aylen Pritchin - H.Wieniawski koncert fis-moll cz1.mp3 13.79 MB
Aylen Pritchin - H.Wieniawski koncert fis-moll cz2.mp3 4.33 MB
Aylen Pritchin - H.Wieniawski koncert fis-moll cz3.mp3 6.13 MB
Aylen Pritchin - P.Czajkowski koncert D-dur cz1.mp3 17.21 MB
Aylen Pritchin - P.Czajkowski koncert D-dur cz2.mp3 5.94 MB
Aylen Pritchin - P.Czajkowski koncert D-dur cz3.mp3 9.79 MB