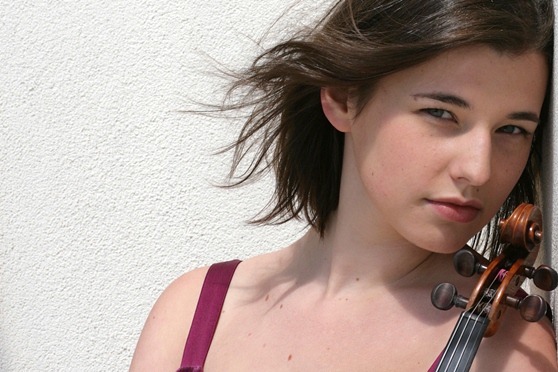 Date of Birth: 18.08.1991
Instrument: Luigi Rovatti 1906
Maria Włoszczowska started her education with Mirosław Ławrynowicz in 2004 and is currently a student with Jan Stanienda at the Fryderyk Chopin University of Music. In 2009 she won the first prize in the eighth edition of the Zdzisław Jahnke National Violin Competition in Poznań and a special award in the eleventh Karol Lipiński and Henryk Wieniawski Competition for Young Violinists in Lublin. Maria has participated in numerous master classes in Poland and abroad with Matis Vaytsner, Sergei Kravchenko, Petru Munteanu, Larissa Kolos, Wolfgang Marschner, Roland Baldini, Michał Grabarczyk, Konstanty Andrzej Kulka and Edward Zienkowski. She has performed in Poland, Germany, the Netherlands, France, Norway and Switzerland.
[2011]


Program performed during the 14th International Henryk Wieniawski Violin Competition (October 2011):
Stage 1:
J. S. Bach: first and second movement of a sonata for solo violin BWV 1005
N. Paganini: Capriccio No. 2 Op. 1
H. Wieniawski: Capriccio Op. 10 No. 6 (Prélude)
E. Ysaÿe: Third Sonata in D Minor for violin solo Op. 27 Ballade
M.Wloszczowska-JSB-IIISonata-Adagio.mp3 4.39 MB
M.Wloszczowska-JSB-IIISonata-Fuga.mp3 10.19 MB
M.Wloszczowska-NP-Kaprysh-op1nr2.mp3 3.33 MB
M.Wloszczowska-H.W-Kaprysh-nr6LePrelude.mp3 3.03 MB
M.Wloszczowska-EY-SonataIII d-moll op27.mp3 6.73 MB
Stage 2:
J. Brahms: I Sonata in G Major Op. 78
H. Wieniawski: Variations on an Original Theme Op. 15
K. Szymanowski: Fontaine d'Arethuse of Mythes cycle Op. 30
Maria Wloszczowska -J.Brahms- ISonata G-dur Vivace ma non troppo.mp3 10.36 MB
Maria Wloszczowska -J.Brahms- ISonata G-dur Adagio.mp3 6.91 MB
Maria Wloszczowska -J.Brahms- ISonata G-dur Allegro molto moderato.mp3 7.77 MB
Maria Wloszczowska - H.Wieniawski Wariacje op.15.mp3 11.4 MB
Maria Wloszczowska - K.Szymanowski Zrodlo Aretuzy.mp3 5.38 MB
Stage 3:
W. A. Mozart: Violin Concerto in A Major KV 219 (first movement) ; Cadence author: J. Joachim
W. A. Mozart: first movement of Sinfonia Concertante in E flat Major KV 364/320d

Lech Bałaban - viola
nr 50 Maria WLOSZCZOWSKA; Mozart-Konc skrzyp A KV219;cz1=Allegro aperto.mp3 9.12 MB
nr 50 Maria WLOSZCZOWSKA; Mozart-sinf.Concertanate Es KV364;cz1=Allegro maestoso; altowka=Lech Balaban.mp3 11.73 MB
Stage 4:
H. Wieniawski: Second Violin Concerto in D Minor Op. 22
L. van Beethoven: Violin Concerto in D Major Op. 61