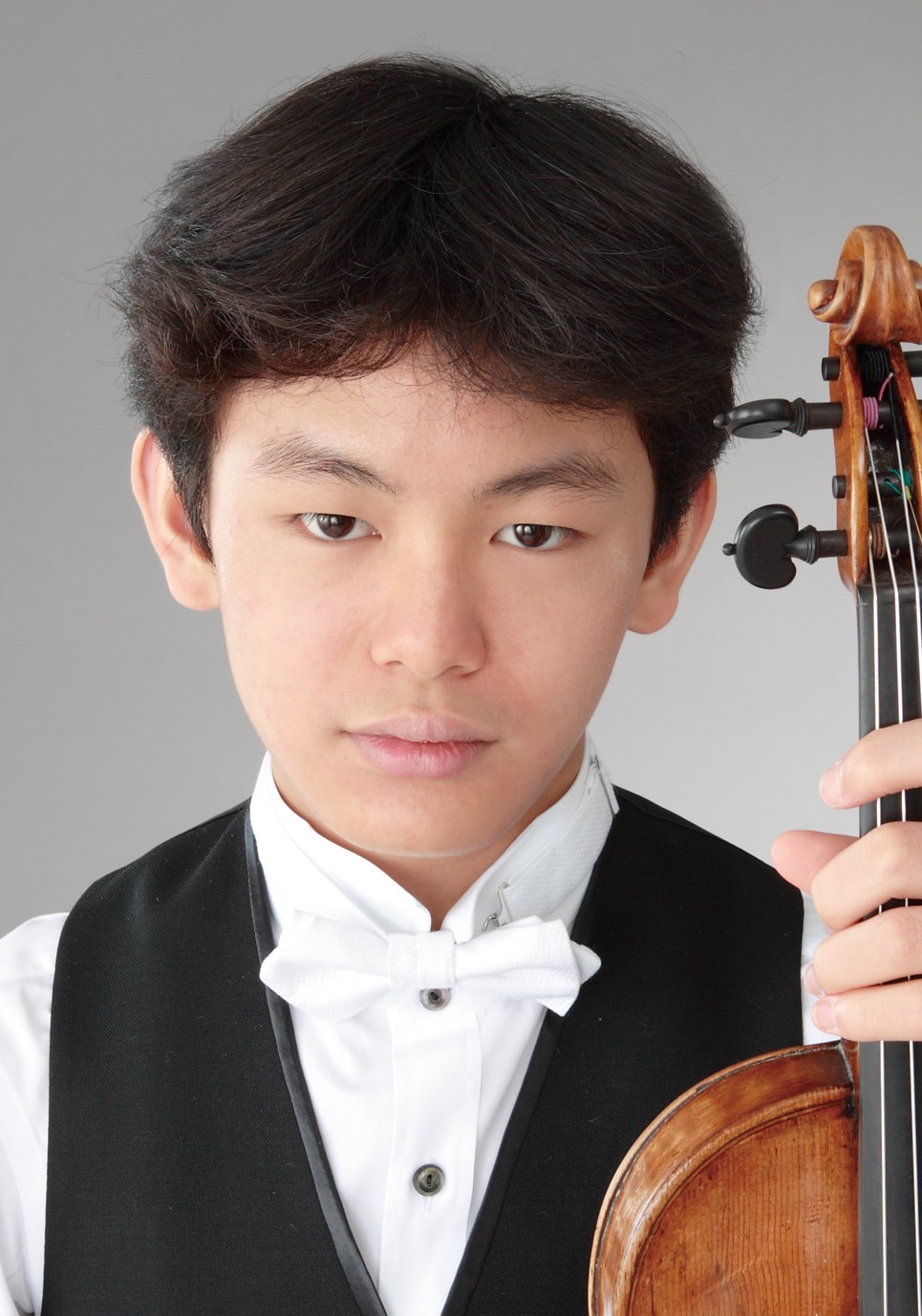 Date of Birth: 01.02.1992
Instrument: G. B. Guadagnini 1753
Arata Yumi began playing violin by the Suzuki method when he was four and continued his education at the Toho Gakuen School of Music with Akiko Tatsumi. In 2002 he met Zakhar Bron and is currently his student at the Zurich University of the Arts in Switzerland and a scholarship holder of the ROHM Music Foundation. Winner of many competitions including the 57th All Japan Music Competition for Students (Tokyo, 2003), 4th International Competition for Young Violinists in Novosibirsk (2004), 10th Karol Lipiński and Henryk Wieniawski International Young Violinist Competition in Lublin (2006) and 1st Guadagnini Competition in Tokyo (2011). Arata has performed mainly in Japan and Switzerland, at the Violin Festa 2009 in Tokyo and at the Zurich Tonhalle Grosser Saal. He has participated in a master class given by Christian Tetzlaff.
[2011]


Program performed during the 14th International Henryk Wieniawski Violin Competition (October 2011):
Stage 1:
J. S. Bach: Adagio and Fuga of a Sonata for violin solo BWV 1001
N. Paganini: Capriccio No. 17 Op. 1
H. Wieniawski: Capriccio Op. 10 No. 7 (La Cadenza)
E. Ysaÿe: Third Sonata in D Minor for violin solo Op. 27 Ballade
Arata Yumi 53 JB ISonata Adagio.mp3 3.74 MB
Arata Yumi 53 JB ISonata Fuga.mp3 4.37 MB
Arata Yumi 53 NPKaprys Es op1nr17.mp3 3.13 MB
Arata Yumi 53 HW Kaprys op.10 nr7.mp3 3.88 MB
Arata Yumi 53 EY III sonata d Ballada.mp3 5.7 MB
Stage 2:
F. Schubert: Sonata in A Major (Duo) D 574
H. Wieniawski: Fantasy on Themes from Ch. Gounod's Opera Faust Op. 20
K. Szymanowski:  La fontaine d'Arethuse of Mythes cycle Op. 30
Arata Yumi - Fr. Schubert Sonata A-dur Allegro moderato.mp3 5.54 MB
Arata Yumi - Fr. Schubert Sonata A-dur Scherzo.mp3 3.72 MB
Arata Yumi - Fr. Schubert Sonata A-dur Andantino.mp3 4.19 MB
Arata Yumi - Fr. Schubert Sonata A-dur Allegro vivace.mp3 3.25 MB
Arata Yumi - H.Wieniawski Fantazja na tematy z op.Faust.mp3 15.36 MB
Arata Yumi - K.Szymanowski Zrodlo Aretuzy.mp3 5.47 MB
Stage 3:
W. A. Mozart: Violin Concerto in G Major KV 216 (first movement) ; Cadence author: Robert Levin
W. A. Mozart: first movement of Sinfonia Concertante in E flat Major KV 364/320d

Lech Bałaban - viola
nr 53 Arata YUMI; Mozart - Koncert skrzyp G KV216 cz1=Allegro, cad=Robert Levin.mp3 7.57 MB
nr 53 Arata YUMI; Mozart - Sinf.Concertante Es KV364;cz1=Allegro maestoso; altowka=Lech Balaban.mp3 11.55 MB
Stage 4:
H. Wieniawski: Second Violin Concerto in D Minor Op. 22
D. Shostakovich: Violin Concerto No. 1 in A Minor Op. 77
nr53 Arata YUMI Wieniawski-Konc skrz d op22;cz1-Allegro moderato.mp3 11.3 MB
nr53 Arata YUMI Wieniawski-Konc skrz d op22;cz2=Romance. Andante.mp3 4.7 MB
nr53 Arata YUMI Wieniawski-Konc skrz d op22;cz3-Finale.Allegro.mp3 5.57 MB
nr53 Arata YUMI; Szostakowicz- I Konc skrz a op77;cz1=Nokturn..mp3 12.44 MB
nr53 Arata YUMI; Szostakowicz- I Konc skrz a op77;cz2=Scherzo.Allegro.mp3 6.21 MB
nr53 Arata YUMI; Szostakowicz- I Konc skrz a op77;cz3=Passacaglia.Andante.mp3 13.16 MB
nr53 Arata YUMI; Szostakowicz- I Konc skrz a op77;cz4=Burlesque.Allegro..mp3 4.47 MB