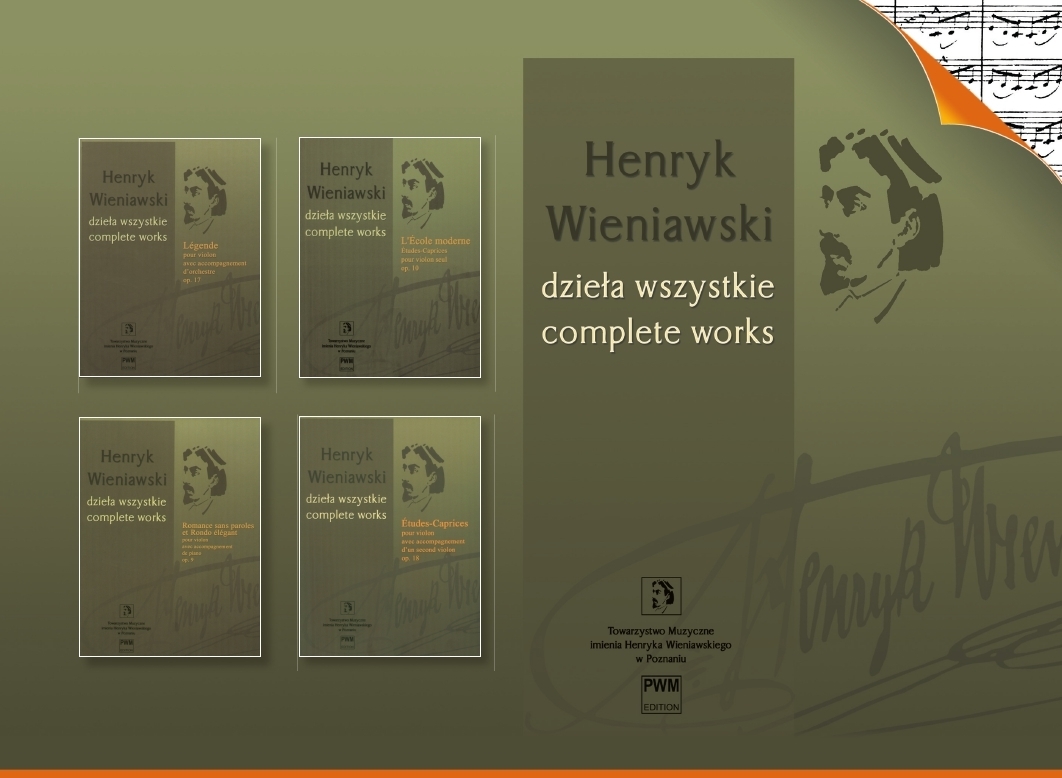 Download a brochure about the Complete Works of Henryk Wieniawski (PDF, 228 KB)
     About the Complete Works of Henryk Wieniawski

Henryk Wieniawski, a formidable virtuoso violinist, composer and teacher, is an exponent of both Polish and European musical cultures. It is for historical reason that his heritage is scattered, not easily available, known in fragments and, from the publishing point of view, the printed scores are often far from modern standards. Protecting the heritage of the artist is not only a given right, but also a duty of the culture he originates from. This view became the primordial ground on which the Research Council, the Artistic Council, and the Board of Henryk Wieniawski Musical Society in Poznań, took a decision to publish the Complete Works of Henryk Wieniawski (CWHW). The Society gave the Editorial Board the responsibility for this publication.

At the beginning of the process of publishing the newly interpreted heritage of Henryk Wieniawski, some practical conclusions had to be drawn from his triple role – of a composer, performer, and teacher – while arranging the materials and data in the CWHW. The Compete Works, unlike in usual practice, have enlarged the scope of questions under discussion, and introduced a division into two series:
Series A of the Works will encompass the entire extant compositional legacy of Henryk Wieniawski – all the music he ever wrote, from works to sketches and fragments. The publishers and the Editorial Board aim to produce a document of the authentic source texts of compositions, meeting current standards for collective editions that serve both scholarly research and musical practice. The basic form of a composition, together with essential critical tools, is established by a musicologist in accordance with the "Editorial principles for the musical text of the CWHW" reproduced in each volume of the Works. The musicological introduction takes account of both the current state of knowledge regarding the composition and also its extant versions. In addition, a critical commentary contains more detailed information concerning variants in other versions of the composition as compared to the basic text.
Series B of the Works, meanwhile,will contain personal documents, correspondence, reviews and iconography from Wieniawski's own times. The series will also include studies and monographs devoted to Wieniawski's life, work as a composer, and performance art. Unlike in the A series, whose content will refer to the original, closed and complete works (and therefore will be strictly limited), the B series is intended to be open, also to the research related to questions of Henryk Wieniawski's life and activity.

The general intention of the editors of the CWHW is not only to enable the musicians to perform Wieniawski's music without having to refer to the original of the published notes, but also to restore the authentic, original form of the compositions, identifying the necessary editing changes in the basic text of the score, taking into account the information included in the critical commentary. The introduction, written by a musicologist, is intended to account for the state of the knowledge about a given piece and its existing versions. The critical commentary will also include detailed information about the variants in the remaining versions of a given composition, compared with the basic text.

The CWHW represents a weighty, difficult and onerous challenge for the publishers, the Editorial Board and the editors of particular volumes. Yet we hope that the initiative of making available the entire legacy of Henryk Wieniawski will meet with a fovourable reception, and that its realisation will be supported by the musical and musicological communities, as well as by sponsors, who will appreciate the value of the CWHW for musical culture. Above all, the Editorial Board will consider its mission accomplished if the Works contribute to the wider dissemination of the valuable compositional legacy of Henryk Wieniawski.


The publishers and editorial board of the CWHW
Poznań-Kraków, October 2006