Henryk Wieniawski and the 19th Century Violin Schools.
Techniques of Playing, Performance, Questions of Sources and Editorial Issues


Title: Henryk Wieniawski and the 19th Century Violin Schools. Techniques of Playing, Performance,
Questions of Sources and Editorial Issues
Authors: Robin Stowell, Damien Ehrhardt, Renata Suchowiejko, Luca Aversano, Massimilano Sala,
Roberto Illiano, Marcin Wąsowski, Dieter Gutknecht, Klaus Döge, László Gombos, Pablo-L. Rodriguez,
Małgorzata Woźna-Stankiewicz
Editors: Maciej Jabłoński, Danuta Jasińska
Publisher: Rhytmos for The Henryk Wieniawski Musical Society in Poznań
Place and date of publication: Poznań 2006
Language: English
Number of pages: 200
ISBN: 83-923344-1-8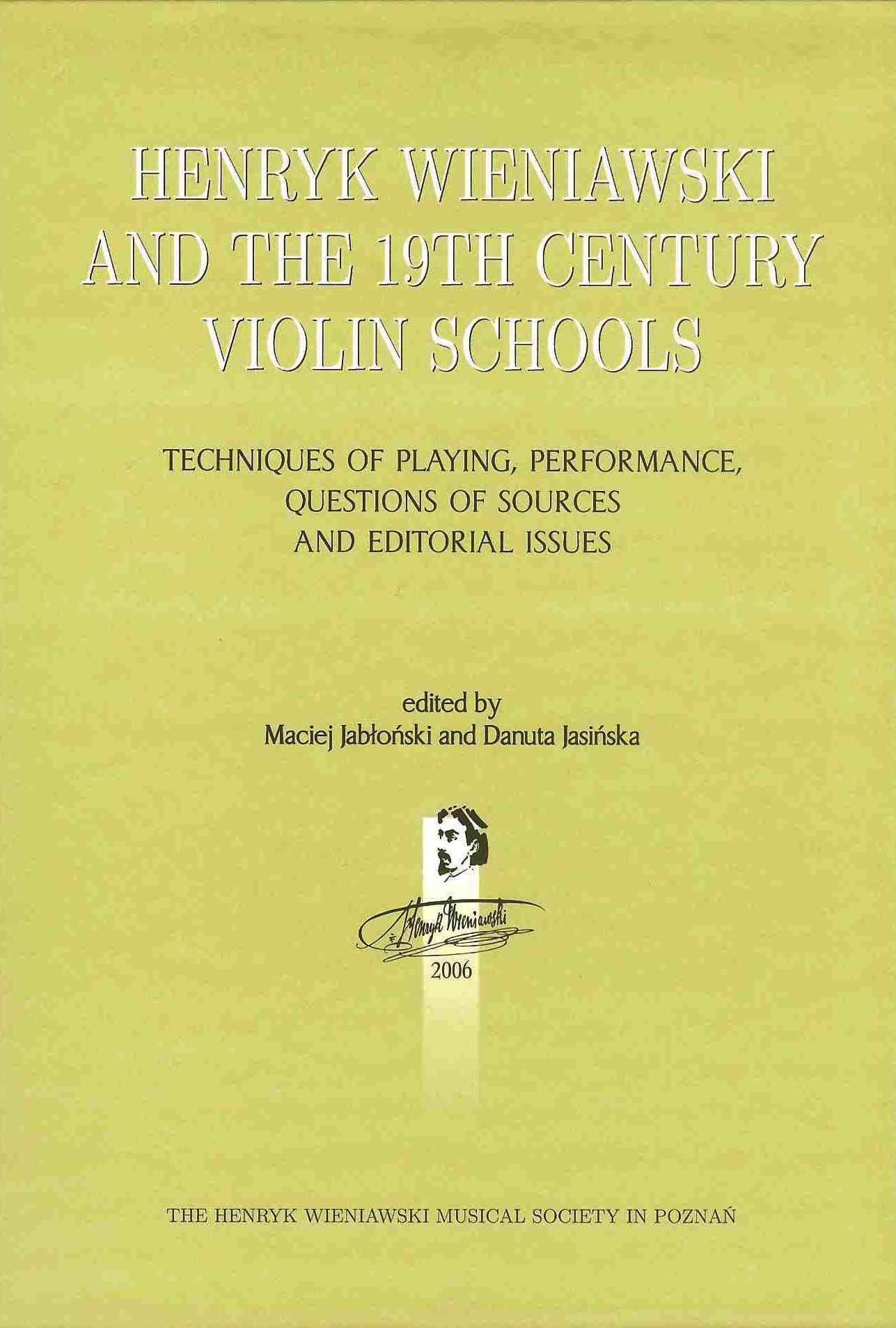 We present you with the second volume devoted to the life and work of Henryk Wieniawski. The volume under title Henryk Wieniawski and the 19th Century Violin Schools. Techniques of Playing, Performance, Questions of Sources and Editorial Issues comprises the proceedings of the second international musicological conference held in Poznań from March 10 to 12, 2005 under the auspices of the Henryk Wieniawski Musical Society and in cooperation with the Ignacy Jan Paderewski Academy of Music in Poznań. Adam Mickiewicz University – Department of Musicology, Committee of Musicology of the Poznań Society for the Advancement of the Arts and Sciences. This time the life and work of Henryk Wieniawski were looked upon from the perspective of the 19th century national schools of violin playing with other virtuosi of Wieniawski's times: Louis Spohr, Joseph Joachim, Niccolò Paganini or František Ondříček being interpreted and studied. These general historic and comparative studies are supplemented by papers devoted to the questions of editorial issues, sources research and teaching.
The conference was attended by scholars from the United Kingdom, Germany, Italy, Spain, France, Norway, Hungary and Poland who had participated in previous sessions in Poznań and whose papers had been included in the first volume of proceedings published by the Henryk Wieniawski Musical Society in 2001 (Henryk Wieniawski. Composer and Virtuoso in the Musical Culture of the XIX and XX Centuries) and by others invited to Poznań for the first time to join in the study of Henryk Wieniawski's life and work, and the history of violin playing in Europe.
The book was published on the occasion of the XIIIth International Henryk Wieniawski Violin Competition which that year was held from October 14 to 29, 2006.

Contents:
Robin Stowell (Cardiff): Henryk Wieniawski (1835-1880): Polish, French, Franco-Belgian, German, Russian, Italian or Hungarian?
Damien Ehrhardt (Paris/Évry): National Schools, Transcultural Mediation and Musical Field in the 19th Century. The Example of the Neudeutsche Schule and the Société Nationale de Musique
Renata Suchowiejko (Kraków): Franco-Belgian School of Violin Playing. Techniques – Aesthetics – Didactics
Luca Aversano (Rome): Violin Pedagogy in Italy between the 18th and 19th Centuries
Massimilano Sala (Lucca): Giovanni Battista Viotti's Quartets from Paris to London
Roberto Illiano (Lucca): Pietro Antonio Locatelli's Influence on Niccolò Paganini
Marcin Wąsowski (Warszawa): Virtuosity in Caprices by Karol Lipiński and Niccolò Paganini
Dieter Gutknecht (Köln): Joseph Joachim and his Influence on Violin Playing in Germany in the Second Half of the 19th Century
Klaus Döge (München): František Ondříček and Virtuosity. Some Remarks on Ondříček's Fantasy on Themes from Bedřich Smetana's The Bartered Bridge
László Gombos (Budapest): The Main Directions of the Hungarian Violin School in the 19th and 20th Centuries
Pablo-L. Rodriguez (Logroño/La Rioja): De la manière des zigeuner. On Pablo Sarasate's 1904 Recordings
Małgorzata Woźna-Stankiewicz (Kraków): Information on Violin Schools and Virtuosi in the Polish 19th Century Historical Writing on Music