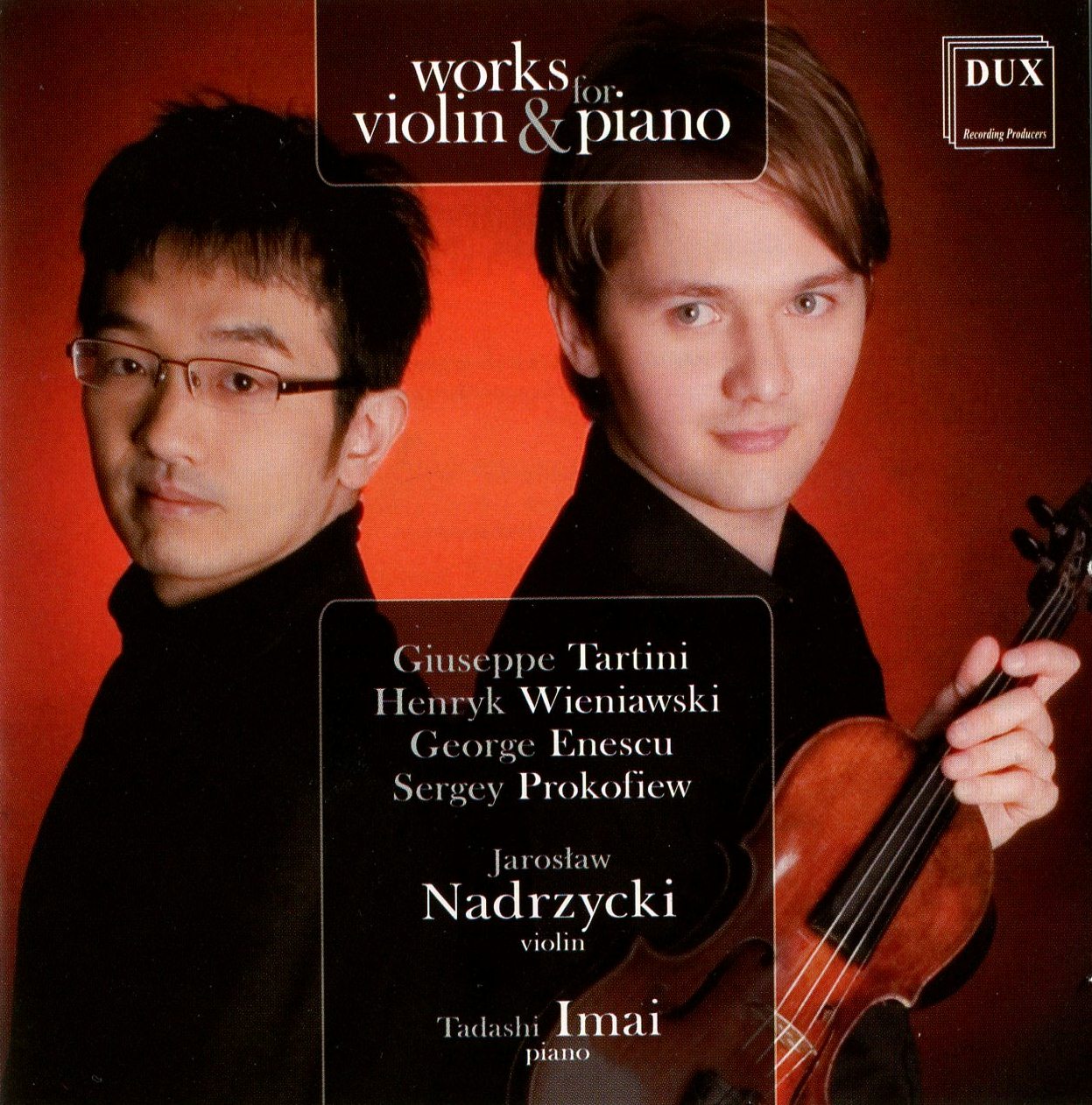 We proudly present our CD publication –  the fruit of cooperation between a violinist Jarosław Nadrzycki and a pianist Tadashi Imai, two great musicians of the younger generation. The album, entitled simply Works for Violin and Piano, contains four chamber masterpieces: "The Devil's trill" Sonata by G. Tartini, Polonaise brillante in D major Op. 4 by H. Wieniawski, Violin Sonata No. 3 in A minor Op. 25 by G. Enescu and Sonata for Violin and Piano No. 2 in D major Op. 94b by S. Prokofiev.

Giuseppe Tartini: Sonata "Le Trille du diable"
1. I Larghetto
2. II Allegro energico
3. III Grave. Allegro assai
Henryk Wieniawski
4. Polonaise brillante D-dur op. 4
George Enescu: III Sonata skrzypcowa a-moll op. 25
5. I Moderato malinconico
6. II Andante sostenuto e misterioso
7. III Allegro con brio ma non troppo mosso
Sergey Prokofiew: II Sonata na skrzypce i fortepian D-dur op. 94b
8. I Moderato
9. II Scherzo. Presto
10. III Andante
11. IV Allegro con brio

Recorded at the Adam Mickiewicz University Hall in Poznań, March 8th-11th, 2010.

Listen to selected excerpts from the CD:
J. Nadrzycki_T. Imai - Giuseppe Tartini - Sonata Le Trille du diable - Fritz Kreisler, II. Allegro energico.mp3 1.21 MB
J. Nadrzycki_T. Imai - George Enescu - Violin Sonata No. 3 in A minor Op. 25, I. Moderato malinconico.mp3 452.11 kB
J. Nadrzycki_T. Imai - George Enescu - Violin Sonata No. 3 in A minor Op. 25, III. Allegro con brio ma non troppo mosso.mp3 557.92 kB
J. Nadrzycki_T. Imai - Sergey Prokofiev - Sonata for Violin & Piano No. 2 in D major Op.94b, I. Moderato.mp3 815.88 kB
J. Nadrzycki_T. Imai - Sergey Prokofiev - Sonata for Violin & Piano No. 2 in D major Op.94b, IV. Allegro con brio.mp3 2.56 MB