Jan Spidlen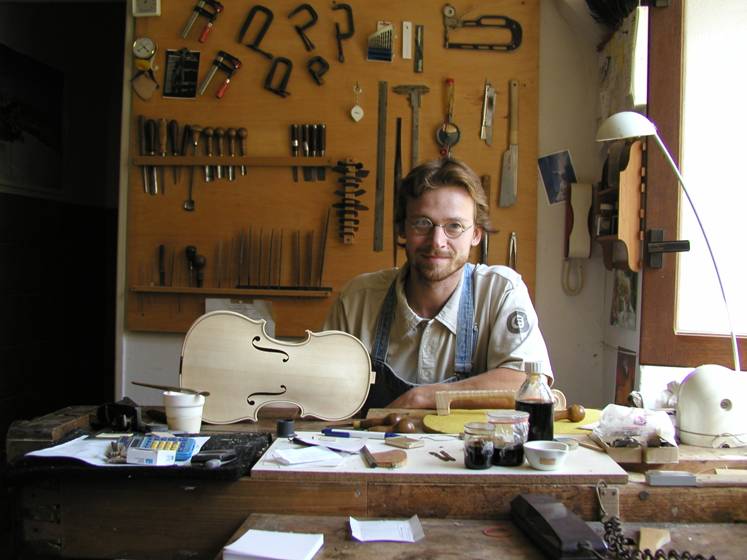 Jan Spidlen was born on 12 November 1967 in Prague as the only son of Premysl O. Spidlen. From his early childhood he spent a lot of time in his father's workshop becoming familiar with string instruments, music and wood and even showing significant artistic talent at that young age. His parents encouraged him to take an interest in music and he began to play the violin at the age of five.
He studied wood-carving at the Art and Industrial School in Prague, however, he acquired the fundaments of violin-making in Mittenwald in Germany where he spent a year at the International Violin-Making School. After his return he continued training with his father from whom he also inherited a love of sport. In 1983-1984 he was a member of the national windsurfing team and during the 1990s he was one of the top snowboarding talents in the Czech Republic. Sport continues to play an important part in his life.
In 1989 he travelled to England to study for one year at the prestigious London-based firm J&A Beare where he worked as a restorer and encountered a large number of extremely rare instruments. Since 1988 he is a member of the Violin-Makers' Artists' Circle and in 2003 he was adopted as a member of Entente Internationale des Maitres Luthiers et Archetiers d'Art.
Jan married in 1993 and has two children, a son Frantisek (*1996) and daughter Josefina (*1998).
From the beginning of his career Jan has successfully attended various international violin-making competitions where he has continued to assume top positions: 1990 Paris (6. place – viola, 7. place – violin); 1993 Mittenwald (2. prize - violin), 1993 Prague (1. prize - viola), 1994 Manchester (3. prize - violoncello), 1997 Mittenwald (2. prize - violin, 1. prize not awarded), 1997 Cremona (4. place - violin), 1999 Paris (honourable mentions – violin and viola). 
In October 2003 Jan Spidlen reached his greatest success so far. With his two violins he participated at the jubilee 10. Triennale - the important international violin-making competition in Cremona/Italy. At general amazement, he received the 1. and the 2. prize, as well as 2 other prizes for the best tone and workmanship of the whole competition, and another special prize of the Polish violin-makers' assotiation for the best sounding violin. This phenomenal success is unique - allegedly this was the first time one violin-maker received so many prizes at one time. Nowadays Jan Spidlen takes part at violin making competitions as a jury member.
Jan Spidlen is strongly interested in innovation of bow instruments. In May 2004 he was invited to the Amiata Summit, a two-week international meeting dedicated especially to possibilities of future development of violin. Top nine violin makers, several well known players, experts in brainstorming and journalists participated in this creative cooperation. Each luthier prepared a project and presented his own view of potencial innovations. Mutual confrontation and exchange of ideas in very unconventional and relaxed atmosphere helped to realize many good ideas. In conjunction with the Amiata Summit Jan Spidlen constructed a violin including various innovations not only for the sake the individual design but mainly for improvement of sound and stability of the instrument: modified outline of the body with short corners and narrow edge, enlarged eff holes, titanium screw inside the neck, carbon fibre reinforcement of the bass bar, individual design of the scroll with inlayed lead weight... The violin attracts the attencion at first due to its blue color. This symbol of liberation from convention raised from collaboration with Pavel Sporcl, Czech virtuoso who also took part at the Amiata Summit. From July 2006 he is the new owner of this outstanding instrument.
He is currently working in their family workshop in Prague, almost exclusively manufacturing new violins. His instruments are highly valued and, due to high demand, particularly from abroad, customers may have to wait several years for an instrument.