Eszter Perényi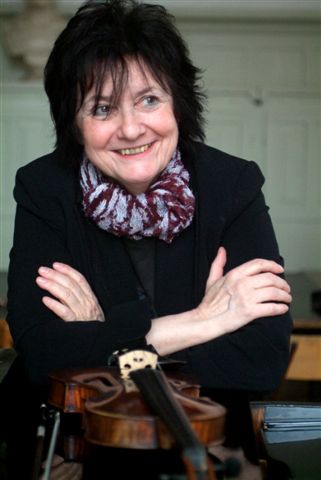 Eszter Perényi completed her studies at Franz Liszt Academy of Music in Budapest in 1967. She was appointed as university professor in 1998. She has been leading the Strings Department since.

Her students participate at national and international competitions with great success. The list of her students includes names such as Péter Somogyi, Barnabás Kelemen, Katalin Kokas, Ádám Banda, Ernő Kállai, etc.

Master classes in Hungary (Budapest and other towns), China (Beijing, Shanghai, Tienchin), Madrid, Brussels, Amsterdam, Israel, 2012 Guest Professor in Tokyo University of Arts (Geidai) etc.
Regular invited professor at the International Summer Academy Prague-Vienna-Budapest.

Prof. Perényi is frequent member of significant international competitions (e.g. Menuhin Competition – Great Britain , Kreisler Competition – Vienna, Wieniawski Competition – Poznan, Szigeti-Hubay Competition – Budapest, Yampolsky Competition – Moscow, Osaka Chamber Music Competition.

Professor Perényi is performing as a soloist and plays in chamber music ensembles in various countries all over the world and also in Hungary. Miklós Perényi, Jenő Jandó, Dénes Várjon, Ilona Prunyi, Gyula Kiss, Rohmann Imre are among her chamber music partners.

She has played at concerts with various Hungarian and national orchestras - National Philharmonic Orchestra, Hungarian Radio Orchestra, Franz Liszt Chamber Orchestra, Budapest String Quartet, London Symphony Orchestra, Bamberg Symphony Orchestra, RAI Symphony Orchestra – with such conductors as Erich Leinsdorf, István Kertész, Yuri Simonov, Ádám Medveczky, Ervin Lukács, etc.

Her repertoire covers a wide range of music literature, she lays special emphasis on chamber music and contemporary music. Many composers dedicated pieces to her - e.g. József Soproni, Miklós Kocsár, Emil Petrovics, Attila Bozay, József Sári, István Láng.

Professor Perényi has prepared many TV and radio recordings, Decca Naxos and Hungaroton published various recorings of her.

Eszter Perényi was awarded many prizes, e.g. Franz Liszt Prize (1987), Small Cross of the Hungarian Republic (1995), Bartók-Pásztory Prize (2002).

[2014]