Roman Lasocki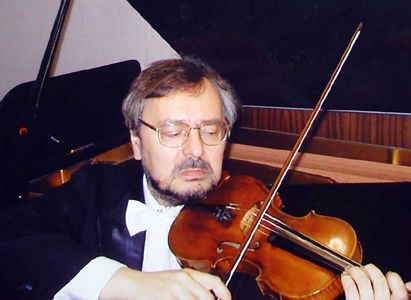 Roman Lasocki is one of the most outstanding Polish violinists. He graduated with honours from the State Higher School of Music in Łódź, class of Prof. Fr. Jamry. He perfected his skills under such masters as André Gertler, Henryk Szeryng, Tadeusz Wroński or Stanisław Lewandowski. He has taken part in many master courses, e.g., in Budapest, Weimar, Geneva and Barcelona.
He has performed at many concert halls all over the world including the Salle Gaveau in Paris, Bösendorfer Saal in Vienna, Carnegie Hall in New York and the greatest concert centres in Europe, Asia, USA and Canada. He has taken part in renowned world music festivals including ,,Festival de Paris" and ,,Warsaw Autumn". He has played with the best Polish conductors and he particularly cherishes concerts and recordings with the Silesian Philharmonic and the Polish Radio's National Symphony Orchestra conducted by Karol Stryja, Antoni Wit, Miroslaw Jacek Błaszczyk and Jerzy Swoboda.
Many outstanding Polish composers have dedicated their work to Roman Lasocki, e.g., Rafał Augustyn, Jerzy Bauer, Edward Bogusławski, Marian Borkowski, Sławomir Czarnecki, Andrzej Dutkiewicz, Jan Wincenty Hawel, Włodzimierz Kotoński, Stanisław Moryto, Bronisław Kazimierz Przybylski, Witold Rudziński and Romuald Twardowski. The soloist later published many of them at PWM (Polish Music Publishers) and at the Aurtors' Agency ZAiKS with his own performance arrangement.
Roman Lasocki has recorded more than twenty analogue records and compact discs for Polish, German, British, French and Japanese recording companies. About the recording of London's 'Olympia' Witold Lutosławski wrote very favourably. The album from 'Naxos' with The Violin Concerto No. 2 by Karol Szymanowski (the Great Symphony Orchestra of the Polish Radio directed by Karol Stryja) was recognized by London's recording company '1001 best CD albums' as the best performance of this concerto. Moreover, the CD with Witold Litosławski's Partita (Silesian Philharmonic) Tadeusz Wroński described as exemplary in his review. He has also recorded for Polish Radio as well as German, French, Italian, Swedish, Hungarian, Belgian, Dutch, Spanish, Czech, Korean, American and Canadian broadcasting companies. His co-operation of many years with Polish Television has led to the production of six serial programs including 'Fantasy for Strings', 'Masters of the Violin', 'Histories Rendered with Strings and Bows' and 'Roman Lasocki Presents'. All in all, he has recorded more than 250 instalments in which he plays himself and comments and interviews the most outstanding Polish violinists, viola players and cellists.
From 1970 on Roman Lasocki has also taught. He is full professor at the Fryderyk Chopin Academy of Music in Warsaw and professor at the Academy of Music in Katowice. Many recognised violinists have graduated from his class. Roman Lasocki has also held many responsible academic functions. In 1996-2002 he was Vice-rector for Artistic Affairs. In 2002-2004 he was visiting professor at Daegu University, South Korea and conducted master courses in Seul. In 2005 he was once again elected Vice-rector for Artistic Affairs for 2005-2008. Professor Roman Lasocki is currently prorector for Artistic Affairs for term 2008-2012.
For many decades Roman Lasocki has been invited to conduct master courses e.g. in Germany, France, Holland, Spain, Italy, South Korea, Japan, USA and Canada.
He has frequently judged and chaired the juries of Polish and international violin competitions.
In recognition of his artistic achievements he has been awarded, among others, the Polonia Restituta Officer's Cross, Gold and Silver Crosses of Merit, the Gold Medal of the Polish Radio and the "Golden Screen" award and has been given the Minister of Culture's award four times, as well as the medal "Gloria Artis".